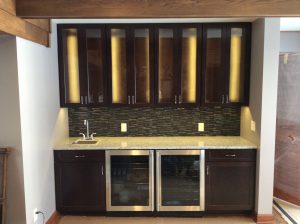 Thank you again for visiting my website. As I mentioned on the home page, my name is Ron Dowty, owner of Dowty's Home Improvements, Inc. located in Grafton, Wi. I have been serving Ozaukee, Milwaukee, Washington and Sheboygan counties for over 22 years. But don't let my location fool you, if the job size warrants, I have been known to travel as far as Madison, Wi., Lakewood, Wi. (Maiden Lake) and even Antigo, Wi. (Pickeral, Wi.)
I am a full service home improvement contractor and remodeler and am fully licensed and insured. My services include additions, lower levels (basements), bathrooms, kitchens, and even designing, drawing, acting as general contractor and building the perfect home for you. I can also help with smaller projects such as patching a hole in a wall, changing a front door or installing new flooring.
I got my start in remodeling working for my brother in law in 1993 after marrying my wife, Jennifer, in 1992. She is also the office manager, mother to our 4 children and has helped run the business since becoming incorporated in 2002. Unlike other remodeling companies, I do all my own work wherever possible - from digging the trench for your addition foundation to shingling the roof and everything in between. I have the ability to do just about anything you would like to have done. I only subcontract my work when it is a must and even then, I am still on site making sure things are done right, done to my satisfaction and clean at the end of the day. It may take me a bit longer to complete your project compared to other contractors but you will have the comfort of not having a dozen strangers running through your home. I hand pick all my material that I will use on your project to make sure you have the best looking outcome now and in the future. 90 percent of what you see in my pictures is work I performed myself. And while I am my only employee, I cannot take full credit for the projects you will see here - it was through the homeowners vision and input that I was able to make their ideas come to life.
My main goal at the end of the day is to see people happy - plain and simple. I am not in this business to become rich, I am in this business because I love building, creating and transforming. I tried hiring employees in the past but the idea of making some extra money was outweighed by the thought of sending someone in to do a job that may not live up to my standards.
Please use the link buttons at the very top and bottom of my pages to take you to Angie's List to see more reviews and to my Facebook page for more recent updates. Call me anytime or email me to set up a meeting for a free estimate. And if you would like, I will be happy to give you any of my previous customers' information to contact for a referral.
I have been working one on one locally with all my customers for over 20 years and I have noticed a lot of remodeling companies popping up out of nowhere lately - I have done a lot of research on them and should you choose another company for your project, please be sure you look closely in to them as well and see if they will let you call ANY of their past customers, not just a few on a list they came up with, what their BBB rating is and if they are on Angie's List. A flashy company website may be appealing but may not tell you much about their integrity.